Greece FemDom Gala – How much fun! , Athens 5/11-18

Now that the excitement of my first International  trip in 3  years has died down, I can tell  you how much fun I had at the first FemDom Gala held  at the beautiful Omega Compound
Mistress Alexandra's dungeon is lovely and spacious – well equipped for all of us Mistresses to descend upon it.
I was looking forward to celebrating Queen Ariana Chevalier's birthday and networking with new Mistresses from all over the world. Getting there was a bit of a challenge due to passport issues but once all handled, I was on my way!
Upon arriving in Athens for the FemDom Gala  at the Omega Compound I was picked p by a well-behaved submissive who whisked me away to  start my weekend. I settled in at my hotel with Elena DeLuca
We then rushed off the the White Luncheon held by Countess Dionysus which including a vow ceremony with M. Volcano and her boy. Miss Elena DeLuca officiated. I was honored to attend. Also there were some fellow lovely Mistresses such as Ezada Sinn, Mistress Caramel, Mistress Lorraine, Mistress Alexia  and Mistress Anne Tittou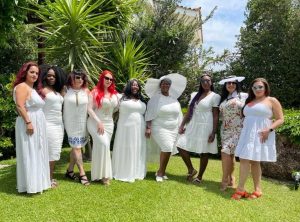 The submissives served us well. The fresh seafood was fantastic as was the sparkling wine!
Onto the opening ceremonies that night at the Omega Compound!
                        The FemDom Gala was hosted by some of the industry's best, Queen Ariana Chevalier, Mistress Tess, Madame Caramel and the Omega Compound proprietress , Mistress Alexandra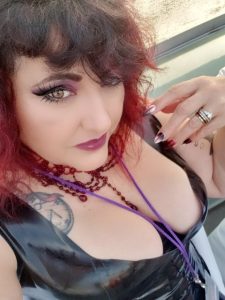 My first look for the event was a latex gown by House of Harlot.
The evening started with a glass of champagne and a meet and greet of all the lovely Mistresses attending!
              I was excited to be meeting so many new Mistresses and Sex Workers, plus reconnecting with old friends like Alexandra Snow and Goddess Tangent.
I made the acquaintance of so many ladies I knew from social media but now got to see in person. I especially enjoying hanging with Miss Lorraine UK and Mistress Adah Vonn. Both are fantastic Mistresses and great personalities. I look forward to visiting both of them in the future.
   Second day in Greece started with a bit of sightseeing and fantastic lunch with Elena DeLuca. We climbed the Acropolis and didn't die!
Time to get ready for second night of the Gala which included interviews and the Red Carpet. Finally caught up with some more of my US Dommes including Alexa Complex
My second look was more latex this time, my Skin Two ballgown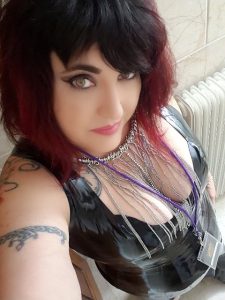 Sunday started with 10 Mistresses descending on an unsuspecting furrier and raiding his inventory! We all got some lovely pieces – one leather jacket I adore picked out for me by Mistress Damazonia. Wait till you see the photoshoot with it!
Dont' Elena DeLuca and I look stunning on our stoles? More images via Loyalfans.
The highlight of the evening for me was the award ceremony where I was acknowledged by my peers for being an OG – with the birthday girl, Ariana Chevalier
and other dedicated Mistresses.
Next year will be my 30th year as a professional Mistress. I am planning to do so many things and visit places, events and Mistresses. Do you desire to join me in the celebration?
Then email me at chicagomistress@gmail.com
The perfect end to the week was a day at villa with Mistress Ariana's rubber gimp in the pool then a sunset tour to Poseidon's temple.
  There was so much activity it is hard to show it all. Plus you have to earn it! See more of our fun via my Loyal Fans .
Interested in FMTY or sponsoring my upcoming 2023 travels?  Desire to serve me but unfamiliar with my Dominance style? Become more familiar with who I am and what I like by reading my Dominance blog
Enhance My 2023 Trips:
 Next year, I will be celebrating my 30th year as a professional Dominatrix. To that end I intend to do all those things I have put off till now :
Create content with all those Ladies I have admired for so long
Return to London to see my good friend,Mistress Miranda – who will also be celebrating her 30th
Return to Greece to expand my network with International Mistresses
Invite as many talented Ladies as possible that would like to grace my Chicago Studio as possible.
Go to Montreal Fetish Weekend, FetCon, and more!
To assist in 2023 adventure, including my return to the FemDom Gala, you may send AA giftcards
  I have also  added new items to my Amazon wishlist to make my future trips easier and more enjoyable.
You may also inquire about sponsoring or accompanying me on one of my adventures via email.
                                                                             Want to see more of my Femme Domme adventures and discuss how you can join in, you may tip and text via my Sextpanther