About Mistress Simone
Saint Louis and Chicago Dominatrix
Best known as ChicagoMistress , I am a career Dominatrix who started out in Chicago  30 years ago. Expanding to my second Studio in Saint Louis, Missouri around 13 years ago, I now travel monthly between the locations to create unique BDSM and fetish scenes with those I connect with.
Over the years I have developed a reputation as both a heavy bondage Dominatrix and a CBT Mistress.
When submissives ask what my main fetish is my answer is Control. I love developing unique scenes in which controlling your sensory input is the focus.
My Domination style depends on you, your actions and our connection. One thing that will remain constant in all our encounters is my pure enjoyment at what we create together. Whatever it may be – a corporal correction, mummification or sadism.
What fun is it for me if I am not engaging deeply with you while playing? I define my play concept in this blog post 
I seek to connect, control and captivate you. My female dominant spirit requires your servitude, your submission and/or your deference. What is it like to be me? Well I tell you in my Being a Dominant Woman blog
Gaining a reaction from you is my joy. It puts a smile on my face to watch your body move, hear your noises or see you sink deep into subspace. I like to laugh in sessions. My wit is dry and can cut. I view it as the true calling of a professional Dominatrix to assist those who come to see her in becoming comfortable with themselves and their fetishes. A Dominant/submission exchange should be rooted in trust, honesty and mutual respect. Yes, even Mistresses have limits! Read more on the topic: Rights of the Dominant
Taking you out of the mundane world of strife and stress and into a kinky world of BDsm, submission and fetishism will be my goal for our time together.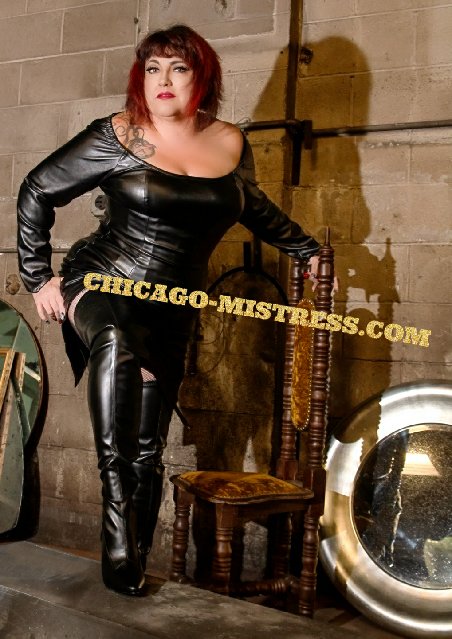 You…
One thing I hear often is "I was afraid to session with you as you seem extreme." Well, I am as I focus solely on you and our encounter when we are playing. However, all play levels are welcome with me. The needs of the BDSM novice to the more experienced fetishist can be guided by my dominant will.  It is about the kink exploration we will do together, not our labels.
You may have just decided to take the plunge into Professional scenes. Curious to see what all the hype is about but unsure where to begin, you come across me. A mature, intelligent and delightfully inventive Mistress. One of my true joys is to remove that vanilla blindfold and put on the kink one! Novices can be confident that in seeing me they will get a good starting point for what they seek in BSM encounters and are safe.
Kink may be a part of you for as long as you can recall. You know it is deeply ingraining in your psyche. You may have done the circuit of ProDommes, not finding exactly what you seek. Or after so many years, you find you need a new outlook, a fresh set of hands – a Mistress that can take you to a higher level, challenge your submission and embrace your dark desires. Experienced players know I possess the skill to take them to that deep level of control they desire. Not afraid to go to the edge and dangle you over, I will always safely pull you back when you need the security of my strong control.
No matter your experience, once with me you will relax, adapt and enjoy our time together. Each scene we engage in will have its own dynamic, developing organically as we play. Provide me with the framework of what intrigues you and I will develop a truly different context each time we play together.
My BDSM specialities, my favorite fetishes, and my limitations will be revealed on my site. You will be required to pay close attention to the protocol as it will determine if we are well suited to scene together. At this stage in my career, I seek those who desire an intelligent encounter with a skilled Dominant woman. 

My pleasure does not come from being cruel, but from the sacrifice one makes to serve me. I have the ability to tailor each session to the BDSM and/or fetish interests of each person.
Sexual nor gender orientation does not matter to me. Nor does your age (long as it's the legal limit) or physical shape as long as able to engage with me. Our BDSM encounter and relationship is my kink. It is what turns me on. For a true power exchange to occur, you must have the power to relinquish.
You will find me to possess a vivid imagination, wicked wit and a wide array of BDSM skills and experience. The needs of the BDSM novice to the more experienced fetishist can be guided by my dominant will.  It is about the kink exploration we will do together.
All your limits will be respected.

 Sincerity, integrity, and honesty are the key philosophies within my domain.