Bondage
Predicament ~ Mummification ~ Rope
Ahhh… now to discuss my love of bondage in any form! Besides leather, this is my true kink. Creating unique, complex and restrictive ways to hold you while I have my way with you engages my creative sadist. Ranging from slave positions to full encasement, my bondage skill will create the perfect immersive environment for us to connect in. Fully surrender in the trust that I can safely take you to where you desire in our bondage session.
If you are new to the love of bondage, I will be happy to share my love with you, starting you out easy with a comfort level catered to you. While I am an extreme bondage fetishist, I also enjoy simply placing a collar on you. Just the act of a circle encasing your neck can increase our connection and enhance your submissiveness. Tying up your cock and balls can heighten all the sensations we may engage with cbt. Bondage does not have to be all-encompassing or inescapable. So do not fear to step into this arena with me. I will guide you safely to a place we can both enjoy.
Thinking outside the norm with bondage is where my true love lies. Themed bondage, Feminization bondage, clothing bondage – all are activities I enjoy.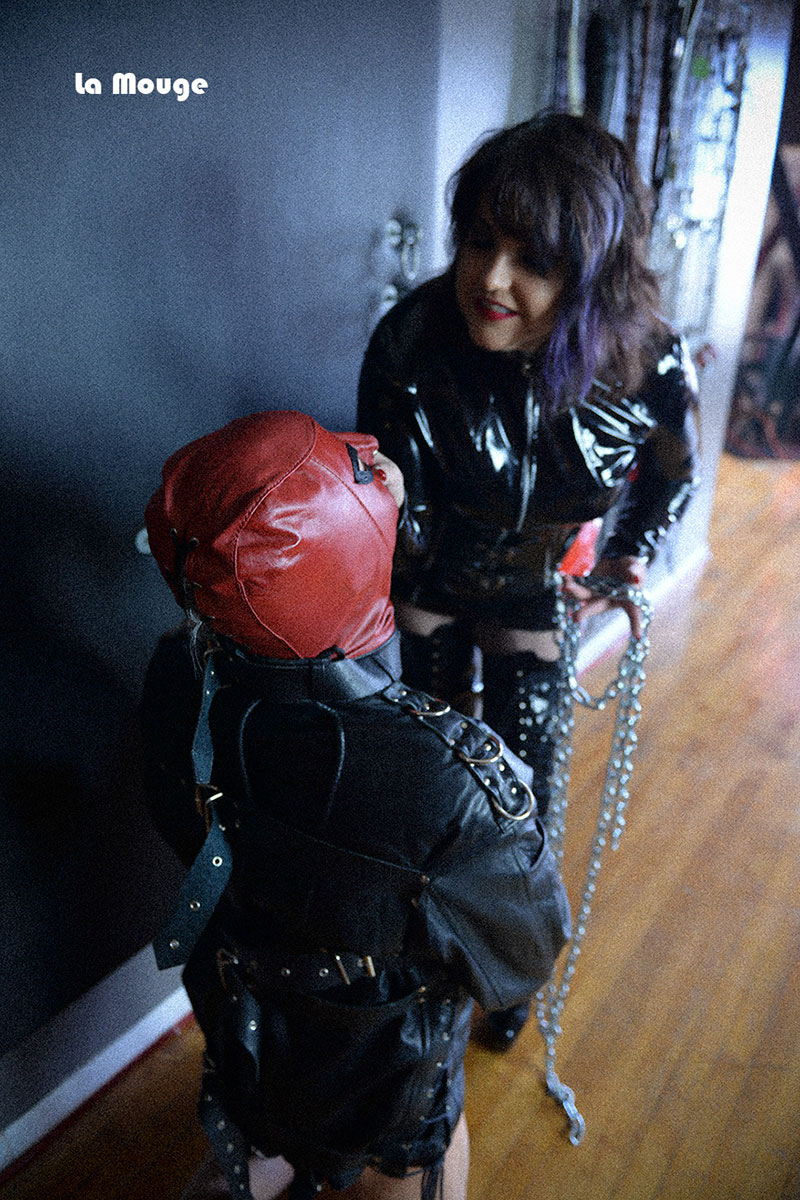 While all types of bondage excite me, my favorites to engage in are predicament and encasement.
Predicament bondage
Placing you in a supposedly innocent position only for you to discover how devious it is after I have you in it will be one sure way you hear my laughter. Watching you struggle to lessen the sensations, only to have them increase with each movement you make. Adding sensations to create additional movement thus making your predicament harder. There are so many ways to accomplish this from shibari or rope rigging to devices such as humblers and yokes. My dungeons are equipped with a plethora of evil devices I can utilize in your predicament.
Rope
While I do not identify as a shibari Mistress, I do love rope. My rope skill is designed for restriction and control. Rope has a sensuality to it that other material does not. The way it slides over your skin then binds tightly. I love combining rope with other materials such as silk, pantyhose, saran wrap. Rope bondage can add that extra level of restraint to any scene.
Mummification
To many this is a simple activity of just placing you in a body bag, to me, this is a never-ending road to my kink creativity. I have mummified subs with anything my imagination can pervert. From Christmas wrapping paper to bubble wrap – if it can wrap – it can wrap you! While I love the intensity of latex and leather body bags, I also like other materials such a satin, nylon and fleece. Layering is a joy. The more I place you in, the deeper your mind will go and relax for me to control and connect to my desires. The layering of different items and materials to create a soundproof cocoon where all you can feel are the sensations, I administer via estim, hands or toys. Mummification can also include hoods. gags and blindfolds to make the sensory deprivation 100% complete
Metal
Chains, metal wrist and ankle restraints, metal cuffs, spreader bars. Shiny and cold, metal looks fantastic. If coupled with leather, be still my heart. One of my favorite things is the jingle jangle of restraints as you follow me to your next position in my studio. Metal works perfectly with my medical fetish.
Gear Whore!
Bondage is where my gear fetish kicks into overdrive.
My extensive collection of bondage equipment includes
Leather body bags
Darlex body bags
Inflatable body bag
Leather hoods
Latex hoods
Inflatable latex hood
Studio Gumm latex hoods
Demask Water hood
Latex vac bed
Medical canvas straight jackets
Latex catsuits
Ballet boots and shoes
Canvas body bag
Leather and latex straight jackets
Numerous gags
Orion sound machine
Both my dungeons have large dungeon pieces designed for bondage such as standing cages, full sleeping cages, bondage chairs, suspension slings and hoist.
The gear can be full-body or small pieces such as chastity cages, metal cock rings, gags, leather mitts – the list is endless. Tight rope, latex straps, chains can all be used to restrain you subtly or completely. Ballet boots, latex stockings or socks, tight pantyhose, locked on heels – actually locked on anything! If a device can be locked on until I decide to release it feeds not only my bondage kink but my control kink.
Regardless of how we explore our bondage fetish, the trust you place in me to guide you is the key. Knowing I have your trust to take where you need is one of the best gifts I receive as a Dominatrix. I will take you there, control you, tease and torment you then return you to the outside world with your mind altered and mood changed. Till next time we meet all you will focus on is what surprises do I have in store for our next session.
How will you meet my expectations for exploration?
Step into my cage and find out.