Interests, Kinks and Limits
BDSM / FEMDOM / SADISM
My primary fetish is CONTROL.
Yes, Mistress is a control freak!
I love to control your entire being and the input you receive. No matter how we are engaging; my control will be omnipresent. It may be subtle, but you will know it is there.
Orgasm control, chastity, sensory input, sensation – whichever we agree on.
Within all, I am a dominant woman. I enjoy controlling those who serve me. I enjoy administering sensations and watching your delightful reactions. I discuss my philopshy on Female Dominance here.
If I'm smiling, the torment is working. BDsm can be many different things: Lighthearted, soul-shattering, spiritual. It really is up to you and me what we want to create. Learn more on my play ideology here.
Engaging and witty, I like to have fun while putting you through your paces. Just don't forget your place or my protocol side may smack you upside the head to remind you where you belong.
Respect, manners and slave structure are key to serving me. There must be a balance in all power exchange for it to be healthy. In this arena, you are my supplicant. Therefore, when I provide you with my rules to engage with me, I expect you to remember them and use them.
Cleanliness and safety are key in creating a safe professional scene. Now more than ever, I take precautions to ensure both of our safety when we play. I expect you to do the same. Upon our meeting, there will be a short intake talk where I will determine how best to proceed within this safe framework. I always respect limits. You will be provided with a safe word.
Peruse my writings, listen to my podcasts – You will learn not only that you have found your Mistress but how well we are matched in our kinks.
Then take the next step and book…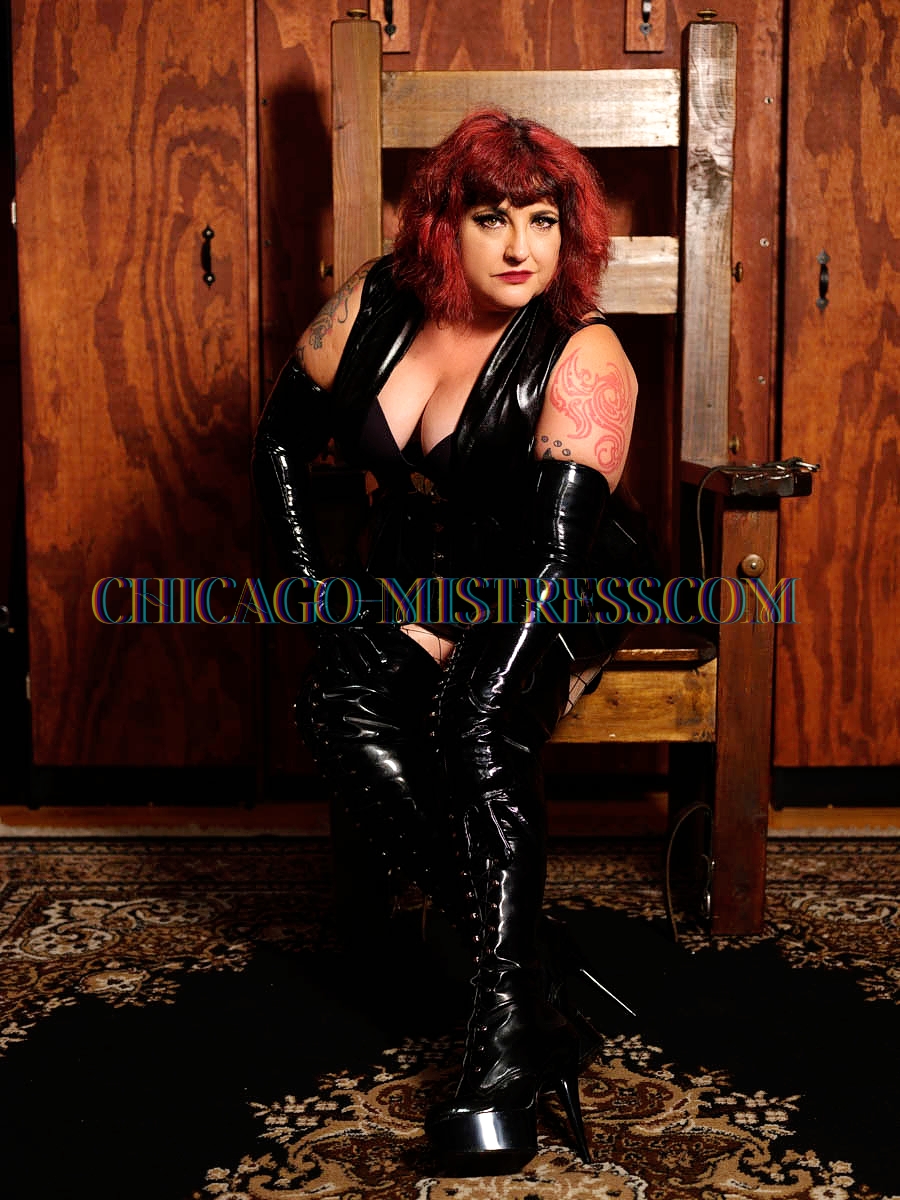 HARD LIMITS
To say I enjoy all activities and will engage in it whether I truly enjoy it or not would be doing both of us a disservice. Over the years I have discovered some that I do not personally enjoy so I no longer engage in them.
I am not kink-shaming those that do enjoy these activities. If you have read up on me at all (like you should do when researching a potential Dominatrix ) then you are aware I am accepting of others' self-expression and kink interests. These are just not an interest of mine. At this point in my career, my main desire is to have engaging, intuitive encounters with kinksters I mesh with well.
First, the switch conversation: Nope, don't ask, never going to happen. I am a naturally Dominant woman, have been since age 3. There is not a submissive bone in my body or mind. I am hard-wired to control you and administer stimuli to garner a reaction from you whether it is pain or pleasure.
If you desire another male or a female submissive in our session, you may inquire into the availability of one. There are times I can accommodate this interest. Note, each pro receives their own separate tribute. There is no package deal.
1. Wrestling
This is a frequent request so let me clear this up once and for all. I don't wrestle, even thigh holds. I will be happy to manhandle you though via chokeholds, slapping, punching and kicking. But we will not get down on the mat.
2. Farting/Burping/Spitting
My body does not have the capacity to engage in these activities. I do enjoy spitting however I do not produce enough to make it super effective.
3. Saline Injections/Infusions
Now let me explain this, as it has changed. I LOVE doing these! But due to the changes in our country, the materials have become very difficult to obtain. And very costly. At this time, it is simply more trouble than it is worth. If a medical client can provide not only his own saline but an I.V. kit, I will consider it.
4. Scripted scenes
I believe the best BDsm scene develops organically once the parameters of interests and limits are established. If there are specific words/phrases that engage your submission or kink, those I will incorporate into our scene. But providing me with a word for word script will diminish my creativity.
5. Forced Bi
In my scenes, I prefer interaction with my partner focused on our activities. While this fetish can be amusing, humiliating and controlling it does not bring me the same enjoyment as encasing you in leather, electrocuting your soft spots or administering an intense beating does.
I do not offer illegal activities so do not ask.
No sexual contact on my person i.e. Queening, ass worship, nude facesitting or such will not happen in my sessions.
We may discuss our session beforehand via Niteflirt or Sexpanther if you have concerns or just desire to get to know each other better.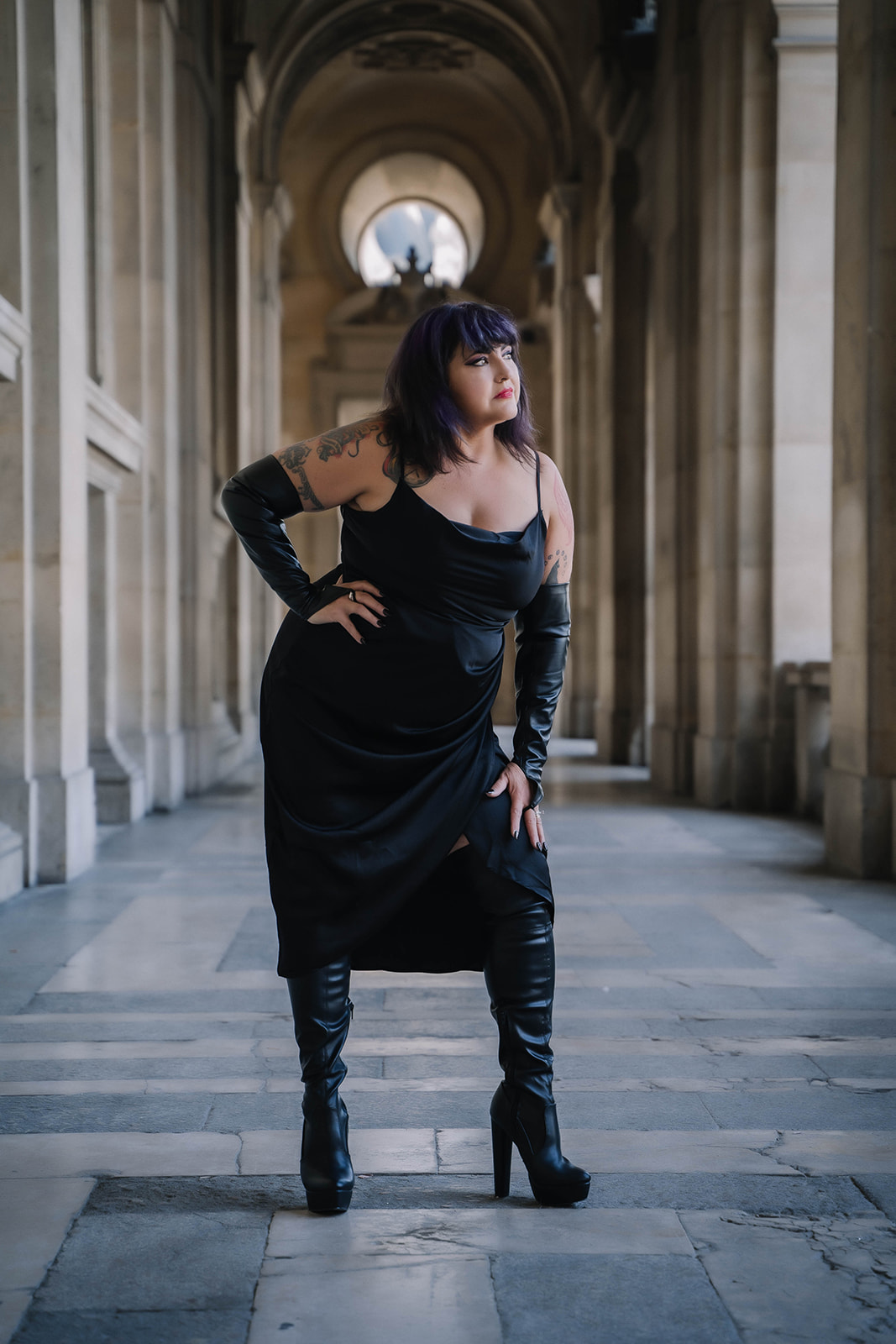 BDSM/fetishes I love:
Leather:
The smell, the feel, the way it hugs the body. – all these elements make leather the most sensual material to me. Leather elicits a primal response Leather is a visceral, sensory experience-it that engages all the senses. It can even engage taste if done right.
Growing up I was attracted to cultural images of badass women in leather kicking ass. I wanted to be one when I grew up, and  behold I have become what I wanted. What other profession can a woman be badass and wear hot as hell outfits? Then I get to place you within my favorite material and make you squirm. Read More About my leather love!
Bondage:
From a simple bondage position to total encasement, I enjoy it all. My favorite is predicament, creating a situation in which you create your own torment by your movement. But really, all bondage gets my creativity flowing. My endorphins kick in when I make you into my captive art or discover a new way to limit your movements, tie you up, encase you. Read more on my bondage obsession.
CBT-V/B:
Watching a sub's reaction as I cause a myriad of sensations on their most sensitive bits is one of my biggest enjoyments. Regardless of gender, your soft pliable flesh will mould itself to my administration. Males, combining humiliation with CBT amuses me when tormenting your cock and balls. SPH comes naturally to me as it's not that hard 😊! I am well known for both my extreme and funny cock and ball bondage. Follow me on my loyalfans to view my CBT creativity.
Medical:
Highly precise medical procedures are my other forte. Enemas especially hold my interest from mixtures, volume retention to deep cleansings.  My technique in medical leans toward the firm yet sensual. Invasive techniques are intimate in nature.
Vulnerability, humiliation and embarrassment can be factors to enhance this type of scene. Or we can find they trigger you, and we will need to nurture you through this type of encounter.
Whichever method we choose, know that you will be exposed and vulenrable to my  intimate administrations. Learn more about your exam here!
Other activities I enjoy:
Latex/Rubber Domination:
Encasing my curves in tight, body-hugging rubber then inserting you in one of my wide selection of latex fetish devices just adds intensity to my bondage infatuation. including an inflatable body bag and straightjacket. Heavy rubber domination and bondage creates a different aesthetic than leather or rope. The feel or it or your body, the tightness of the material as you struggle against. Rubber is unique in the way it interacts with your skin. Warming to your skin temperature, it creates a sensory cocoon in which I place you while I manipulate your sensory input. I may add electrical or vibrational stimulation. Or delve into my medical fetish with urethral sounds or catheters.
I have a passion for latex hoods and gas masks, even if not combined with full rubber. Adding just a bit of rubber to our scene can enhance your subspace tenfold. Breathplay with my rebreathers, tubes and gasmasks gives me the ultimate control over you.
Foot, Pantyhose & High Heel Worship:
My pedicured, size 9 feet loved to be sucked, kissed and rubbed. I especially enjoy face smothering and ball stepping with my feet- bare or pantyhose. My high arches are especially delectable. Having you lie under me while I dangle my toes over your face, teasing you with the sight but not letting you touch just yet. Delve into my foot desires here.
Corporal Discipline:
Pity those over my knee as I am a true disciplinarian! Corporal correction is usually the first skill we are Mistresses learn. As a result, many of us develop a lifelong love of punishing naughty humans. My hand is my best implement for an OTK correction but a good tawse, strap, belt or paddle can get my point across your ass cheeks too! My mentor, Suzanne D'Arcy was known as the Queen of Chicago Cane, and I am proud to have been trained in the whisk of caning by her. I can administer a sound punishment even if you are unable to have marks.
Crossdressing & Feminization:
I love taking big, strong men and making them my girly bitch. Playing with gender fluidity can be very empowering for those coming to explore it with me.
Sissification is a delight for me to share with you. I giggle like a girl when I see you dressed as I desire – whether it be frills, slut or maid. Choosing your look to please our mood then using you accordingly allows my creativity for dress-up to continue. 
Removing or changing your chosen gender through ojectification,dehumanization and persona change allows you and I to delve into deeper arenas of your psyche and play at a much more intimate level. When we change or modify  societal expectations, we shed our preconcieved notions of who we are expected to be.
Come be free with me!
Manhandling:
Your body is mine! Slapping, Punching, Ball stepping and kicking, trampling: All are favorites of mine. As a curvy, muscular woman, using my feet and hands to manhandle your flesh reinforces my power. While I love my BDSM gear, the sheer intensity of controlling you with my own person is highly erotic. In what other context can I grab a man by the balls and watch terror flood his eyes.
Sadism:
I should have known from a young age that I was sadistic. My favorite comedy has always been physical humor such as Three Stooges, Abbott & Costello, and Monty Python. If you enjoy being tortured at the hands of a beautiful woman, administering such techniques have become an art form to me.
I do not limit my sadism to standard BDsm methods. Thinking outside the norm for ways to torment you is what keeps my fresh and excited after 30 years as a Dominatrix.
I will not just hit you, I will strip you of all control over the input. Your nerves will be jumping at my control.
As fetishes and kinks can be very unique and imaginative, if your kink is not listed here, please email me.