The desire of the foot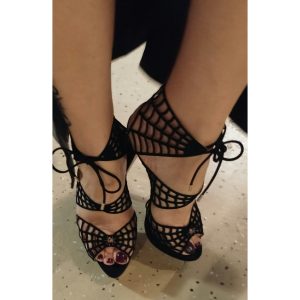 Millions of dollars every year is spent on adorning one small area of the human body: the foot. One can find such things as jewelry, nail polish, silky stockings, sexy hosiery and all types of foot wear for their feet. Why so much attention focused on one small part of us? Women spend millions of dollars on pedicures each year. Shoe designers are some of the highest paid fashion industry individuals. Brand name can be everything; just hearing a particular shoe line can make a foot fetishist gush. Think about some of the high end ones such as Stuart Wietzman, Aldo, Jimmy Choo, or Fluevog. As a self proclaimed shoe and boot whore, I love the look of my feet when encased in anything from sensuous lace topped stockings to slinky open toe sandals. Let's not get me started on leather boots, or for that matter any type of boots. I prefer to be on the receiving end of foot worship. I am what you can call a reverse foot fetishist. I do not have a desire to worship another's feet, but to have mine worshipped. I love dangling my sexy shoe off my toes, teasing a kneeling male who is longing to kiss and suck my delicate toes (an activity referred to as shrimping).
The love of the foot has long been part of our world's culture. A classic example is the foot binding of the East. Women were crippled for their society's concept of beautiful feet. A woman's feet were bound at a young age, the bones compressing and preventing further growth. Women with the smallest feet were of the highest value. Psychologically, for some worshippers, foot fetishism may have some bearing on woman superiority. To worship feet, one must usually kneel down. A kneeling partner kissing your feet can be a huge turn on. Kissing the feet of one who is royalty or saintly has been a long practice worldwide. Jesus had his feet washed by Mary Magdalene. Throughout our long human history, there are examples of foot reverence.
Foot fetishism is defined as fixation or desire for the foot or footwear. The sexual attraction can be focused on a specific part such as toes, heel or arch. Some love bare feet, others enjoy hosiery. Similar to any other preference, foot worship is a highly individualistic activity. Nude toenails, painted toenails, anklets, toe rings – all can be the focus of the foot fetishist. Shape may play a factor. High arches or long toes may be the deciding quality in what arouses the worshipper. Activities may be the thing, such as pedicures, massaging or placing a sexy pump on the foot. Odor and state of cleanliness are included in possible worship triggers. Some like dirty, smelly feet; others like freshly washed. Whatever the turn on trigger is, it will focus around the shape and adornment of the feet. . While widely sexual in nature, it can also be aesthetic. Admiration for a well-turned foot encased in a lovely shoe or boot is something many of us appreciate it. Shoe fetishism can be considered its own category if the foot is not the necessary object, but the shoe is. The classic shoe fetishist one might remember is Imelda Marcos.
Every once in awhile, a foot fetish horror story will come across social media formats. There are horror stories of men attacking women to suck their toes, or stealing the shoes. Some people have even been arrested for harassment. Extreme examples portrayed in the media can cloud the way an activity is perceived. As with any fetish or alternative lifestyle activity, consent is the most important factor. If your fetish is engaged without the other person's consent, that is a violation of that person's space. It can be difficult to understand the desire for the foot for some. Many are turned off by feet, or think they are unattractive. Large majorities of people do not like their feet to be touched. If you are in a relationship with a foot fetishist, understanding their desire to kiss, suck and lick your feet can be difficult. It can be even more so if you are one who does not like having their feet touched.
Foot worship is often considered a woman-centric activity. We most often encounter a male who loves ladies feet. However, there are male-male foot fetishist. The gay leather culture has a big sub-set of foot fetishists, focused on scent and boots. Female to male worship can also be found. The focus of foot worship is not limited by gender or sexual identity. Foot sex play can be a safe –sex alternative. Playing footsie is a wonderful foreplay activity that can be added to your sexual repertoire. Foot massages are one of the safest forms of connecting via touch with a new partner. It's a good icebreaker.
If you feel your partner might be a foot worshipper, there are some ways to figure it out.
Signs you might be dating a foot fetishist:
• They compliment your shoes or pedicure all the time.
• They will take you shoe shopping, and it will take hours as you try on every pair in the store!
• When relaxing, hands will stroll to the feet.
• Concern over foot maintenance will be brought up. Pedicures will be discussed, and polish color might even be suggested
• Foot massages may be offered but gentle caresses are more likely. The foot worshipper wants to do just that, worship. They revere the foot so giving a good foot rub can obscure that goal.
Some helpful guidelines for those who desire to engage in foot worship:
• Do not force your desire on those you encounter. Enjoying a sexy foot in public is all well in good, but crossing personal space boundaries is not.
• Be polite when complimenting a person on their feet. Go for "You have lovely shoes" instead of "WOW, I wanna suck those toes!"
• Respect the ticklishness of the worship-ee. If asked to avoid a certain area, do so.
• Take a No as a No.
If your partner is a foot fetishist, some helpful hints:
• Do not laugh when they try to let you know what turns them on. For some reason, this association tends to make people giggle. It can cause the foot worshipper to retreat.
• Find out what exactly they enjoy about foot worship. Do they like toes, arches or the whole foot? Communication on what they like will enable you to assess if you can indulge them.
• If you cannot stand having your feet touched, be honest up front. Do not pretend to enjoy it just to please the foot-ee. It will backfire down the road.
• If you truly want to engage in the fetish but can't due to ticklish or squirming feet, consider encasing them in hosiery or footwear. It will lessen the sensitivity of your feet and still allow the foot-ee to worship.
• Foot play can be fun, lighthearted and sensual. Think on the classic pin-ups slowing taking off a silk stocking. Tease, control and entice.
The key to dealing with any fetishism is to be honest with it up front – not later. Communicate with your partner(s). Hiding your fetishism will only backfire down the road. Unwillingness to listen to your partner(s) will under-mind the honesty and integrity of your connection. If you are uncomfortable with the whole feet thing, tell him/her so. They will thank you for listening to them, and being honest. Enjoying the interaction together is key to any sexual activity. If there is none, why do it? Do not force yourself to do something you do not enjoy. You do not have to enjoy it as much as the fetishist but if it helps you connect and further your passion AND you enjoy it, then let those toes fly free!