A MALE SUBMISSION PRIMER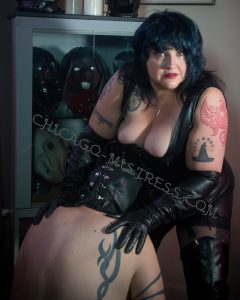 An A to Z synopsis of principles and activities surrounding the power dynamic of female domination & male submission.
Many of these definitions are focused towards the male submissive , however they apply to all genders and sexualities.
All these topics bear further exploration on their own but this primer is meant to introduce the reader to them. Further blog posts will define each concept deeper.
This primer is a living, breathing entity which will continue to expand and develop as new fetishes and kinks arise and the ones on this list grow.
Please keep in mind when reading this blog and my website, that my perspective comes from female domination point of view.
Arousal and Denial: In regards to the male, denial is an excellent motivator. The promise or
restriction of a possible orgasm will spur the strongest man to submission. 2 components of these are edging and chastity – both which rate further exploration. Keeping him perpetually on edge increases his devotion to pleasing you above all else.

Ash tray Service: A sexy Mistress inhaling on a cigar or cigarette then engaging with her submissive as her ash receptacle personifies what many think of as ash tray service. However, just like other activities,it can range light to heavy. From having him kneel at your feet , holding a crystal ashtray while you blow smoke seductively into his face to something much more extreme and humiliating as making him consume your ashes(safely) – this type of service is as you desire.  Remember ,he is there to consensually serve as you wish.

Body Worship and/or Service: This is where The Mistress holds the real power. Your body is the ultimate
reward for the male. Controlling the sexual or worship strings is where the Mistresses have the upper hand. Access to you is granted upon your desire alone.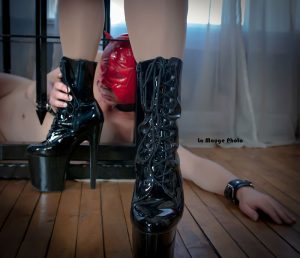 Butt Plugs: I can write a whole paper on anal training with slaves  For all, it can be a wonderful device for sensation, humiliation and control. I love letting a male know I own all his orifices.
CBT : Cock and ball torment, tease or torture- depending on the Mistress's intent. One of my specialties.It encompasses any action that causes stimulation, pain or sensation to the male genitalia. There are separate blog posts about the elements involving CBT. See my page devoted to it.

CFNM: Clothed female, nude male. In our society, nudity is usually a sign of shame or
embarrassment. To require a male to be continually nude in your female presence  reminds
him of your superiority over him. Historically , making a subservient remove their clothing has been a method of intimidation, control and power.

Chastity: A device which should prohibit the  male arousal and orgasm. Can also be mental chastity but that requires a
much disciplined program from both parties and strong wills.  I have written many articles on the topic which will be posted on future blog posts. There are many companies for devices but 2 of my favorites are  steelwerks and holytrainer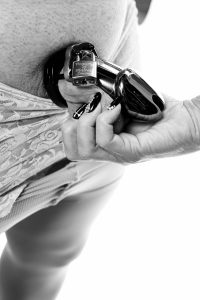 Cock Rings: What I like to call the "hidden collar". This is an excellent overt way of controlling and marking the male. They can be used for daily wear if comfortable [or not] and unobtrusive. Other types can enhance sexual arousal or pleasure for you both. Different than chastity devices.


Corporal Correction: Traditionally this is administered as spankings over the knee, which is
both humiliating and effective to keep him in line. Canes, hairbrushes and other implements
may be used.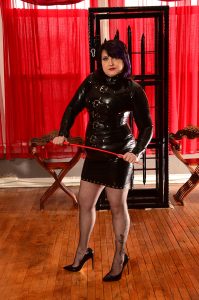 Cuckoldry: Having your male watch you receive sexual pleasure from another person while he is
denied such a privilege. It can include him serving the other person as a fluff-er, having him clean you up afterwards or just being allowed to be in the same room. If you so choose, he can be completely removed from the act and just told about it after the fact. Humiliation and service can be  components of this activity.

Emasculation: Any activity that assists the female in removing or lessening the masculine traits
of her submissive. Can be achieved by other activities listed her such as forced feminization, humiliation or chastity.

Female Supremacy: The belief system that females are superior to males in all forms.

Financial Control: Momma holds the purse strings! Placing your male on an allowance , making him tribute a stipend or hand over his paycheck are all ways of financial control. Again this runs on a continuum.

Forced Feminization: Cross dressing for the non-cross dresser.This topic is very diverse. I approach each feminization request by discovering  Used more so as a humiliation or
embarrassment technique. Many women find males dressed in slight feminine gear extremely erotic. Panties under the pants to work are a favorite of mine. A long discussion can be focused around gender fluidity and sexuality identity associated with cross-dressing. There are many good books written on the topic. Two of my favorites are  "Gender rebels" and "Skirting Gender"

Goddess Worship: An earth based form of female superiority. Stems from the ancient Earth
religions were women were revered as the Mothers of All.
House Hubbies: Recall Mr. Mom? That's what this is. It can be a 24/7 thing or just set for
certain times such as week-ends. It is basically role reversal. He takes on the typical feminine
duties.

Humiliation: Comes in many forms. Public, Verbal and psychical are the three most common.
Embarrassment is a wonderful tool to use where the male is considered,and my favorite .Heavy discussion is required particularly for this activity to avoid possible triggers.

Induced Orgasms: This refers to his masturbation under your guidance. You may place
restrictions on it to suit whatever whim you desire. It is his goal to accomplish it. For example,
he will receive 57 strokes with the cane of his ass while masturbating. On stroke 57, he is to
cum. If he fails, the process will be repeated until he does as you command. Get creative here.

Male Milking: You take the orgasm from him. He does not
control it. Can use machines or make him do it. Ruined orgasm may be a component.


Mounting: Male is bound and restrained while female uses him sexually. His sole use is to
pleasure her.

Nectar Ingestion: This can be one of the ultimate rewards for a male submissive. To drink the golden nectar from one's Goddess can be both rewarding and humiliating depending on the submissive's mind set. Direct from the spiiute or in a vessel – up to you.

Schedule Control: Placing limitations and requirements on his time. Assigning him tasks to
complete, such as check-in times.This has become easier with social media. You define how much control is appropriate. Doing this can take alot of the Mistress's attention, so be sure it what you desire to do.

Shaving:
Can be used as a tool for humiliation or emasculation. To remove a male's hair from
parts not normally bald is to remove part of his masculinity. By shaving his legs, you make him
more feminine.
This is a great tool for distance control. Every time he looks or feels the shaved area, he will be
reminded of his Domina.
Sissification:
Sissy maids are their own special breed of submissives.Unlike humiliation aspects of forced feminization, sissification encompasses desire and love for all femininity. They want to feel pretty, and be told how pretty they are. Alot of detail and attention is required for engaging with sissification. Also, monetarily ,it can be a very expensive fetish.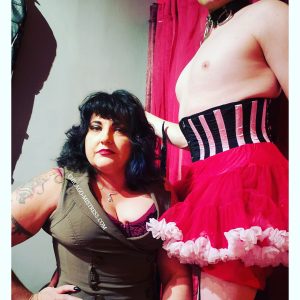 Smothering:
Using your body to prevent his full breathing. Be careful.It is a form of controlled
body worship. The goal here is not for him to pay homage to your person by for him to feel
engulfed within his
Mistress's aura and energy. Ass worship, face sitting all fall here.
Strap-ons:
Anal penetration for the male is a whole separate seminar. I believe Mother Nature
knew exactly what she was doing when she put the male g-spot (prostate) in their asses! Taking
your man as he traditionally would take you is a very empowering action, defining the control
lines of the relationship.
Teasing:
Using the vulnerability of the sub's psyche in regards to your sexual prowess, sensuality and energy is a good skill for the Mistress to utilize at here discretion.
If you choose never to torment him teasingly with your sensual power, so be it.  Keep in mind, the male
worships the feminine body and desires it. Use this to your advantage.
Trampling:
The act of stepping on your male as he lies under your feet. Helps establish the fact that
he is beneath you.Can be done in a variety of ways :
Full or partial weight
Bare feet, stockings, or shoes
Feet or full body weight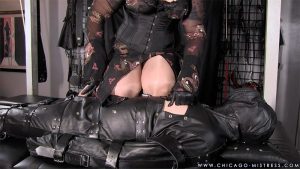 Vacuum Pumps:

  Machines designed to milk the pathetic member of your submissive.

An excellent toy for you controlling his orgasm. Also enables you to control




without touching.
Vocalization:
Males are notorious for their lack of emotional communication. Require him to be
open with his feelings and thoughts on what he is experiencing. Have him keep a journal on his
daily submissive thoughts and acts, and then read it aloud to you. . Also, in regards to play,
males tend to be quieter than females. This can be linked to our societal view on male crying.
Males who flinch or cry out in pain are viewed as wimps. Therefore, when play is occurring,
have him vocalize his pain. It will break him of this societal male pattern. Vocal limitations and
requirements are a tool we all use in our community. There are many variations of this type of
training you may employ to control him
Keep in mind this primer is ever evolving. I will add components as develop. Please feel free to offer topics or add-ons via  my
email.