It is almost my birthday – and no you can't ask how many!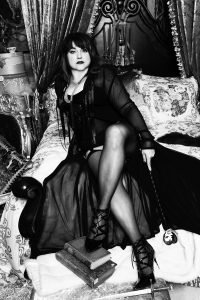 Perfect time of year for a birthday – outdoor venues are open, summer festivals starting and my birthday – June 26th. Not too hot , but sunny and bright ( I'm not talking about me!)
 My Sun sign is Cancer  which supposedly means I'm maternal and nurturing – I've heard this said by some of my submissives after I administer their spankings!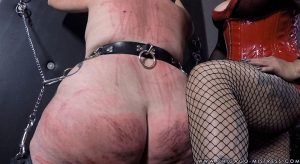 Look nurturing to you?  I don't think so!
I share the day with some other kick-ass women :  Babe Didrikson, Patty Smyth and Ariana Grande. What great company for my birthday!
        Birthday Week Sessions:
I never session on my birthday unless a submissive makes it worth my while. Sessions before and after my day can be booked via sessions page.
I enjoy sessioning the week before my birthday, creating some special bondage scenes with you! Here are a few of my favorites in the past :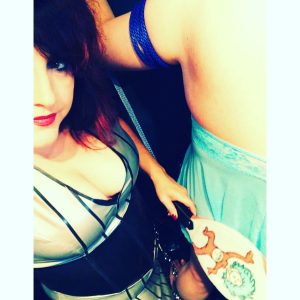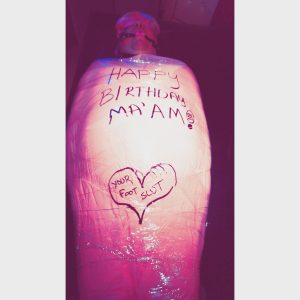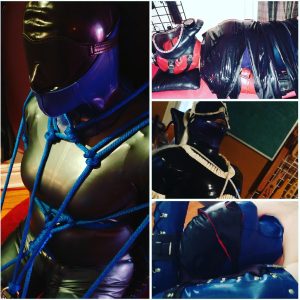 If you do see me during my birthday month, be diligent and review my wishlist before you show up at my door. Tormenting you will be the icing on my celebration.
Even if you can't see me on my special date, you can show your devotion with a tribute or gift. I will tell you how to please me in this blog.
If you are in my personal stable or a regular, a gift for special occasions is customary. One not dedicated to remembering their Mistress's birthday will be noted.
Showing Your Appreciation :
It's my 30th Dominatrix Anniversary this year (more about that in a separate blog). I am traveling most of my birthday month this year on a lovely domination tour which includes Paris where I will be sessioning with Lady Bellatrix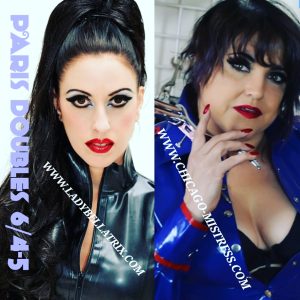 We will be together for one day : June 14th
Book via our websites!
After Paris, I will be enjoying some time in London with Goddess Cleo and Mistress Miranda
You can make my trip more enjoyable by tipping for drinks or dinner via my platforms :
sextpanther.com/chicagomistress
As I am traveling during my birthday month, I will be visiting some of the high-end fetish stores such as Libidex, Demask and Fetters.
Want to be the slave who gets to see me in the new latex you gifted me on this trip?
                                                                                                           Then send tribute via my Wishtender and make both of us happy for my birthday!
My  Amazon wishlist  has a wide variety of  gift choices in a wide price range from 10$ to 500$ , a little something for all who desire to please me. As I have said many times on social media, the size of the gift is not important. it is the thought and energy that went into choosing it.
I have already received some wonderful items this week, thank you to my subs who have shown their devotion so far. Have you?
Over the years I have been a very lucky Mistress with some fantastic slaves gifting me lovely items.
Some of my favorites so far :
CBT bondage chair from my irisihlicks: I am updating the Chicago Studio for my 30th anniversary next year. A deliciously evil new reclining CBT chair has arrived thanks to my slave.
Car : back in the early 2000s, I had a car accident and totaled my beloved Thunderbird. My live-in female slave at the time gifted me a new grand Prix to make sure Mistress could get back and forth to the dungeon. She saw a need – and handled it.
Erostek from my footslut Jack. My old one fizzled out, and he replaced it much to his regret, lol!
Mini Bose Speaker from my sissy brenna for my Saint Louis dungeon. When I was opening my space in Saint Louis, I needed a way to play music simply. I did not want a full blown , over-sized stereo. She gifted me the perfect speaker which I still use to this day.
 A framed needlepoint of my beloved kitty, Re who passed a few years ago. Hand done by my girl Marie and helped by My other girl ,Maribeth. The love that went into such a tender gifts makes it so much more special. it now hangs in my Chicago bedroom.
Tiger eye earrings from my kitten Kayla. Picked as she is my little tiger, and for the mystical properties of the stone.
 My Tiffany necklace and bracelet from long time slave, Terry. I wear both regularly.
A hand carved battle Ax from my wife Steffi. The skill and craftsmanship that went into are amazing. it is in my Saint Louis dungeon.
Doxy wand from my nerd slave  D. Make sure your Mistress is able to get pleasure whenever she desires, without dealing with another human. Plus the Buckaroo Banzi sequel.
TV – 12 years ago when started with long weekends at the Chicago Studio, my collared slave MK_cb made sure I had a way to watch my classic horror movie DVDS.
These are only a few of the amazing and amazing gifts I have received across my career. I am a truly blessed Mistress. Thank you to all who have sent or given a gift over the years. Thinking of my desires and needs, then choosing to provide is a sign of devotion and service. Every time I look at or use one of these items, I recall the sweet submissive(s) who gave it to me.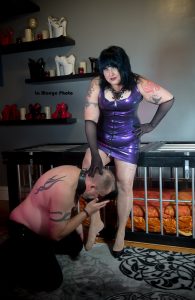 Self care is very important in my life – as it should be in your life especially if you are dedicated in service to me. I like my subs to be in good health and able to keep up with me. Your assignment to this end is to listen to my podcast on self care. It will provide you with insight into what your Mistress needs in this area.
  My self care may be enhanced via monthly contributing to my beauty regime as well as gift cards to my established places to do so:
Love nails and feet? Do you get off at the idea of sucking my toes? Then take care of my manicure/ pedicure monthly! Visa giftcards may be sent to chicagomistress@gmail.com
You may also email if you are interested in being my nail slave. Your reward will be exclusive pics not posted anywhere online such as this: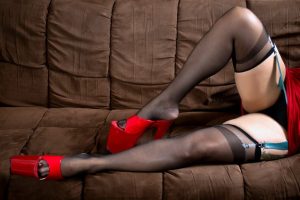 While I appreciate gifts and spoiling me, it is never expected. I acknowledge and appreciate all tokens, regardless of cost or size. In this area, I really do mean, "It is the thought that counts".
Thinking of your Mistress and her needs shows your service and devotion. A 20$ Starbucks card is just as appreciated as a 2,000$ pair of Louboutin heels – neither of which I wouldn't enjoy!
All gift-cards may be sent to chicagomistress@gmail.com
MY Wishtender is the best way to send a gift I will desire.
 If you read this blog after my special day, do note that it holds true all year round. Gifts are accepted and appreciated at all times.
If I will be seeing you for a session around this time, consider an outing for dinner and shopping. Even if we are not scheduled for playtime, I do love my outings.