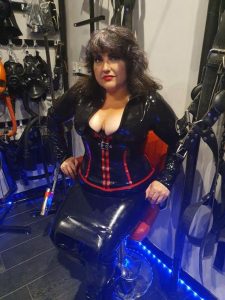 Spending time with Mistress Simone is one of our all-time favorite things to do. She's intelligent, witty, imaginative and knowledgeable. In short, if you're looking for a domme to show you the ropes, literally or figuratively, then she's your woman. We cannot say enough good things about her, both as a person and a dominant, and it's truly my honor to submit to her, even if it's never long enough.
Usually in our reviews I give a time line of what happened, in order. This time I'm going to jump around, beginning with something called sounds.
Sounds, if you don't know, are a very invasive way to become very well acquainted with someone. Ma'am put me in a straitjacket and had me get on her exam table with my feet in the stirrups to give her and my wife access. A blindfold kept me from seeing exactly what was going on, or rather into, me. Ma'am explained before she started what I could expect and what I needed to be aware of. Now, this was something that I was really nervous about, but I wanted to do something that wasn't in my safe zone. Funny how things like flogging or bondage can make me relax but I digress. When the sound entered, I felt the slight burning sensation she had mentioned to me and it subsided very rapidly. The further down it went in my urethra, the stranger it felt and it was messing with my head. Luckily for me, Ma'am quickly realized that the device she chose was a little much for me to handle and she adjusted, using the next smaller size. This time, while it was still a strange sensation, I was able to relax as much as possible into it; both from the adjustment in size and due to the encouragement I was getting from my wife and Ma'am. To be honest, at the time I don't know how much I I enjoyed it, but looking back now it is one of my most vivid memories of the session. In fact, one of my fondest moments in this session was how she soothed me after the sounds were finished.
Flogging, from the first time Ma'am did it to me, has been one of my most favorite activities. If you combine that with rope bondage, I'm in subbie heaven. Well, this session actually began with my wife and Ma'am putting me in a modified hogtie but what I didn't realize at first was that Ma'am put a spreader bar on my ankles. Again, another first, this time with the spreader bar. I was completely at their mercy with my ankles/lower legs kept apart. They applied clothespins and used a vibrator down below to tease and torment me while also flogging my back; that could have gone on for days and I wouldn't have minded one little bit. I was very relaxed after that portion of the session that's for sure.
Speaking of flogging, getting a lesson in how to flog from Ma'am was so much fun. With my wife secured to the Saint Andrews cross, Ma'am helped me with my technique and let me try several different floggers on her. My wife, that is. Afterward, my wife told me she could tell the difference between the two of us, even with the blindfold because I don't hit as hard as Ma'am. Guess I shouldn't be surprised. I'm always worried that I'll hit her wrong, so kind of don't let myself go. I think my technique got better as we went along and I'm confident we'll practice that at home until I can get it right. If I don't, I'll just become the practice dummy for awhile. Hmm, that doesn't sound so bad actually.
Have you ever been in a cage? No, not the metaphorical kind, but an honest to goodness cage? Me neither, at least until this session. Ever since I saw her combination bondage bench/cage, which is an impressive piece to see in person let me tell you, I've wanted to get inside there. For some reason, I never really said anything until this session. I was really glad to say something this time. Crawling into the cage made me really feel like a prisoner, but Ma'am was far from done even though this was near the end of our session time. Sliding a spandex bag in with me, I literally cocooned myself in it then Ma'am and my wife made sure I couldn't get up by securing me with rope to the floor of the cage. My only regret on this was that it couldn't be longer, but maybe next time.
Whether it's solo bondage for me, couples bondage for us both, flogging for either of us, or anything in between, we're always happy to visit Ma'am and wistful when it's time to leave. From start to finish, our time with Ma'am is everything we could wish for and then some. She is a fabulous domme and can always think up something to enhance our session. We may have begun our journey later than some, but we could not have been more fortunate than to find Mistress Simone. Thank you Ma'am, from the bottom of our hearts, for everything you've done, both to and for us.